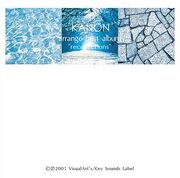 Recollections
is an arrange album for the
Kanon
visual novel. It had the game's greatest hits. It was first released on December 29, 2001 at Comiket 61 in Japan by Key Sounds Label. It bears the catalog number
KSLA-0003
, and was widely distributed on November 29, 2002. The album contains one disc with thirteen tracks which primarily takes tracks from the first two albums released for the
Kanon
visual novel,
Anemoscope
and
Last regrets/Place of wind which arrives
. Seven are from the Anemoscope, and three are from the
Last regrets/Place of wind which arrives
.
The album also contains three new arrangements of songs featured in the Kanon visual novel, which are two background music tracks, and a remix of the game's opening theme "Last regrets". The remix was an acoustic version sung by Lia. The tracks on the album were arranged by Shinji Orito, Magome Togoshi, and Ryō Okabe.
Track list
Edit
Altogether, this soundtrack is 64 minutes and 20 seconds long.
The entire album is available for purchase on iTunes.
Ad blocker interference detected!
Wikia is a free-to-use site that makes money from advertising. We have a modified experience for viewers using ad blockers

Wikia is not accessible if you've made further modifications. Remove the custom ad blocker rule(s) and the page will load as expected.