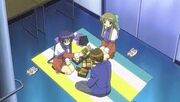 Sayuri is Mai's best friend. They act like sisters often. They eat lunch together and Mai sleeps over at Sayuri's house. Sayuri even defended Mai when she was being accused of breaking a window in the school. When Sayuri gets hurt, Mai blames herself since she has those powers. Sayuri is best friends with Mai because a dog was on school grounds and Sayuri saw Mai feeding the dog in the bushes.
Mai and Yuichi are childhood friends who played together when Yuichi came to visit the City of Snow. They are reunited during the events of Kanon which occur 10 years after they last saw each other. Mai recognizes Yuichi but, typically, remains silent. He doesn't remember her until later in the series. As a child, and presently, Yuichi is the one boy who accepted Mai and her powers.
Ad blocker interference detected!
Wikia is a free-to-use site that makes money from advertising. We have a modified experience for viewers using ad blockers

Wikia is not accessible if you've made further modifications. Remove the custom ad blocker rule(s) and the page will load as expected.